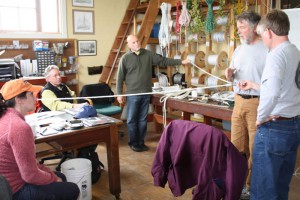 Brion Toss Yacht Rigging's Rig Your Boat Workshops have become a rite of passage for Pacific Northwest cruisers heading off-shore, but in recent years sailors from all over the world and with every level of experience have flocked to the weekend courses.
We usually have twelve participants in each class, so you are guaranteed plenty of face-time with master rigger Brion Toss, whose uncanny ability to explain complex rigging issues in simple, entertaining, and illuminating language has made him a world-renowned author and speaker.
Learn About:
Design, load, and component sizing, selection, and layout considerations for your boat.
Basic splicing, Sta-Lok terminal installation, and secrets for working aloft safely and productively.
Get hands-on experience with drills, taps, rivets, tuning gauges, deck hardware, and other tools of the trade.
Acquiring all the skills you need to put a fully functional rig in your boat.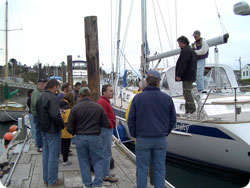 The courses take place in the heart of beautiful and nautically-oriented Port Townsend. Instruction happens both in our Point Hudson loft and out on the docks. Participants are encouraged to bring rig specifications, sail plans, photos, and ideas for their own vessel for discussion.
The course textbook is Brion's "The Rigger's Apprentice" (available online from our store here) and you are encouraged to pick up and peruse a copy before you attend.
Attendees receive a discount on any tools, books, or videos purchased from the shop during the seminar!