Annapolis United States Sailboat Show

– Annapolis, MD October 5th through October 9th 2017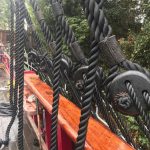 Brion will be at the Colligo Marine Booth (Tent K7 – K9) during the world-famous Annapolis Boat Show this year presenting Colligo's new Brion Toss Signature series of rigging hardware.
Also in Annapolis this year…
Annapolis Rig Your Boat Workshop

– Annapolis, MD –

SOLD OUT

Join Brion in a small group for an intimate look at your sailboat or prospective sailboats rigging systems. Our only East Coast workshop this year, you won't want to miss a golden opportunity to get one-on-one instruction and feedback from a master rigger on the ins and outs of rigging your own boat.
New Bedford, MA
TBD
Chicago All Sail
TBD
Oakland All Sail
TBD