Rig Your Boat Workshops 2020
MARCH 27/28/29    and   OCTOBER 2/3/4
in Port Townsend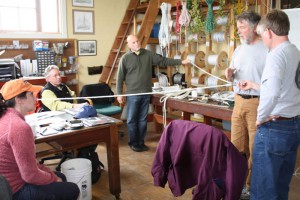 Spend an intense weekend with Ian and our expert crew in one of our most popular workshops. These workshops were originally born from Brion's Rigger Apprenticeship Program. After numerous requests from professionals and the general public we took our favorites and made them available to everyone. The days are packed with information, analysis, and inspections of actual boats as well as lots of hands-on exercises. All the tools and materials you will need for the class will be provided, unless otherwise stated.
Register Now – March 27, 28, 29, 2020
$850 per person
Register Now  – October 2, 3, 4, 2020
$850.00 per person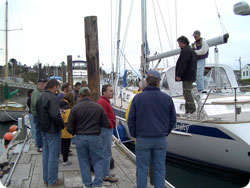 Register Early to Reserve Your Place!
5% Off All Purchases During Workshop Weekend
Accommodation Not Included, But See Below For Some Options
Transportation Not Included Either, But Sailing Your Own Boat To Port Townsend Sounds Like Fun, Doesn't It?
---
Three Fun-Filled Days of Rigging Education Await You!
Rig Your Boat Workshops are just packed with training and information about rigging your boat. Students get hands-on experience with drills, taps, rivets, tuning gauges, deck hardware and more. They learn knots, splices, and how to put together swageless fittings. Rig layout, design, and loading considerations are covered.
And it turned out to be way too much for just two days! So now we're adding a third and putting in even more content. Now we will be able to:
Get people aloft
Do more with deck layout
Add more splices
Look more closely at designs
The class covers all the skills and ideas needed to put a fully functional rig in your boat!
You Will Want to Bring:
Definitely bring your sail plan and deck view – as designed and as built!
Photos of your boat, deck layout from different angles, the rig from the side and looking aft.
Notes or photos of details of running rigging, and any rope samples you are using.
Details of the boats dimensions: waterline length; distance from mast to chain plates; rig dimensions.
Questions, aspirations and plans for your boat or you!
The suggested reading list can be found on our Education page. "The Rigger's Apprentice" is naturally the most important pre-class reading material you can have–we highly recommend that you buy and read a copy before attending. Heck, we'll even give you the 5% workshop discount if you  will order it now – and bring your copy to class!
Brion's best known book is also considered the standard text on yacht rigging procedures.
You can find everything from block selection to rig tuning to basic knots.
Other topics include:
Demystify braided rope splicing
Load calculations
Working aloft
Wire splicing
Plus everything you need to know to make your rig work. Hardcover – 392 pages.
The Fine Print
Workshops have a minimum of 5 participants; if we do not have  minimum registration 3 weeks prior to the workshop, those dates will be cancelled.
No refunds will be offered for cancellations later than 3 weeks prior to the workshop.
Friday morning check in from 8-9 am. Class starts promptly at 9, we break for lunch 12-1, and our day ends about 5 pm each day.
Students are offered a 5% discount on  tools, books & videos purchased that weekend. Discounts may not be combined with other special offer
Port Townsend is lovely any time of year; see www.ptguide.com for a map of town, transportation options, and lodging information.

Accommodations

We heartily recommend :

They both offer special prices for our workshop attendees. Two of the loveliest, most gracious, and convenient places to stay in town.

See our Contact Us page for directions to the shop, where class is held.
Please leave a message on our shop phone 1.360.385.1080 with any inquiry about the above or for dates and locations of other Brion Toss Yacht Rigger's seminars around the country.