For nearly 40 years, Brion Toss Yacht Rigging has been the most respected purveyor of quality rigging products and insightful consultation in the Pacific Northwest. Now, you can order Brion's favorite tools and guides directly online and get them anywhere in the world!
Coming Up

---
Nov. 14, 15, & 16 –  THE METS  Amsterdam.The largest trade show in the world-! John Franta of COLLIGO will be there  introducing their new Brion Toss Signature Series of rigging hardware.
See More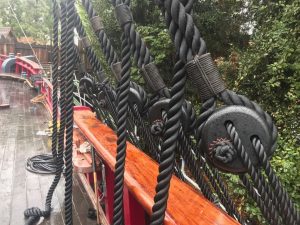 _/)_/)__/)_ /)_ /)/)_/)_/)_/)_/)___/)_/)__/)_ /)_ /)/)_/)_/)_/)_/)_
January 26 to February 3, 2018 –  Seattle Boat Show  CenturyLink Field event center  Seattle

      Of course we will have a booth  in the Sailing Ghetto-  Booth # TBD  – See you there!                  )_/)__/)_ /)_ /)/)_/)_/)_/)_/)___/)_/)__/)_ /)_ /)/)_/)_/)_/)_/)_
Workshop – Rig Your Boat – 3 Days in Port Townsend     April 6, 7 & 8, 2018
Brion has expanded his popular "Rig Your Boat" Workshops to include all day Friday, Saturday & Sunday.  We feel that an extra day would allow for an increased scope, with more consultation tailored to each participants situation, and even more  hands on instruction. It is a weekend packed full of experience and camaraderie, in an environment of cross pollinization, which includes the valuable and diverse skills  and knowledge from everyone in the room.                     See you in Port Townsend!                                                                                                                    PS – the rhodies will be blooming! click to see the View from our fav – Commander's Beach House  
FAVORITE NEW TOOLS
---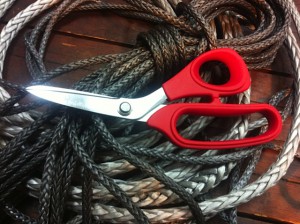 Check out some of our featured rigging products–available online and delivered straight to your door!
Modern high-modulus rope is wonderful stuff… unless you are trying to cut it. But our high-modulus shears go through it like it's butter. If you can get them around the rope, you can cut it–and save yourself hours of work at the whetstone. Several styles…call for more info 360.385.1080
$40.00
Learn to splice like a pro and look like one, too! Our all-inclusive splicing kits come with a splicing wand, oak-handled spike, sailmaker's needle, spool of whipping twine, and 12 feet of rope to practice on. To make sure you know exactly what you're doing with all that stuff, we've thrown in the DVD "Make Your Own Eye Splices" and Brion's excellent "Working Rope Book 5 – Basic Braided Splices." To carry all that around in, you need a bag, and so we bundle it all into our awesome Rigger's Bag with the Brion Toss Yacht Rigger's logo on it: everyone will know you learned your splicing from the best! Natural or Black canvas.
$340.00
---
Looking for something else?