RIG YOUR BOAT  –  3 Day WEEKEND WORKSHOP 
BRION TOSS YACHT RIGGING

PORT TOWNSEND

April  5,6,7, 2019    &   October 4,5,6, 2019

  The nuts, bolts, splices, blocks, spars, machines, & tools of rigging. Details and practices that go into making an efficient rig.  YOUR boat – YOUR rig plan – YOUR deck plan.
> > > More info & Registration on the Sidebar to the right  > > >
---
BRION'S SPEAKING SCHEDULE  Spring 2019:
January 25 – February 2, 2019                                               
Brion's Free Seminars at  SEATTLE BOAT SHOW
https://seattleboatshow.com/seminars/
Sunday, January 27th
5:00 PM
Rig Your Boat – Sail Your Rig
Brion Toss
Stage #6 Club Level
Tuesday, January 29th
6:00 PM
Rigging Basics
Brion Toss
Stage #2 North Hall
Wednesday, January 30th
6:00 PM
Rig Your Boat – Sail Your Rig
Brion Toss
Stage #2 North Hall
Thursday, January 31st
6:00 PM
Rig Inspection
Brion Toss
Stage #2 North Hall
February 8 – 11, 2019                                                              
AUSTRALIAN WOODEN BOAT FESTIVAL
International Wooden Boat Symposium
Hobart, Tasmania
| | | | | |
| --- | --- | --- | --- | --- |
| Saturday, Febrary 9th | |  Brion Toss | | |
| 12:30 PM | | Living Aloft: Staying safe up the mast. | | |
Sunday, February 10th

 Brion Toss
3:30 PM

Sailing Your Rig: Understanding the factors that

make a good rig
Check out the Photos & Program for this AMAZING Festival!
_____________________________________________________
…a new e-book from Brion Toss.


FALLING 
Now, you can order ALL Brion's print & audio version books, favorite tools and guides directly from our Store online and get them delivered anywhere in the world!                 But speaking of  e-books …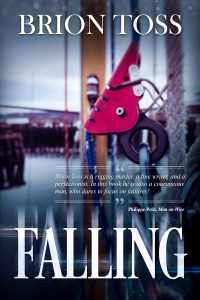 "FALLING" is a sobering, amusing, and often poetic meditation on the wonders and risks of working aloft. Rigger Brion Toss takes you into a world of masts, towers, stadiums, pure air, and adrenaline as he recounts more than 40 years worth of stories of things gone awry at altitude. From dropped tools to collapsed towers to near-fatal falls, the litany of accidents and near-accidents is long… and the sometimes miraculous outcomes are both instructive and thought-provoking.
Not a technical manual, "FALLING" is nonetheless a must-have companion in the library of anyone working at heights.
If you prefer your books in print – Order a  copy Today from our online Store
See what people are saying about FALLING:
"Brion Toss is a rigging master, a fine writer, and a perfectionist. In this book he is also a courageous man, who dares to focus on failures! Now, as the man who walked a tightrope between the Twin Towers, falling is not in my vocabulary—and yet I must confess: mistakes have been my greatest teachers.
We learn from disasters much more than from victorious achievements.
So read and learn (and be frightened), so that you do not fall prey to inattention and amateurism— so that you do not fall, period. Thus join me at shouting to the guy aloft: 'Bravo Brion!'"
Philippe Petit, Man on Wire
"All who have met Brion know he has a way with words. This is fully on display in this delightful little book, rich with experience and loaded with fascinating stories. It will entertain, and perhaps educate, anyone who has ever gone aloft."
Nigel Calder, Boatowner's Mechanical and Electrical Manual
---
---
Looking for something else?                                              Browse our entire Website & Store!