Workshops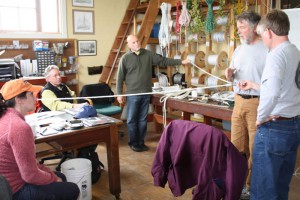 Come to beautiful Port Townsend for two full days of fascinating, educational discussion, consultation, and instruction at one of our famous "Rig Your Boat" workshops. As the title says, it's all about YOUR BOAT's rigging as well as your needs and those of your crew.
Take part in a small, intimate group led by Brion on a tour of the ins and outs and ups and downs of rigging, all focused on your own vessels and requirements.
Rigging workshops are typically offered spring and fall at our loft in Port Townsend. Check the signup page for upcoming dates and availability.
We also offered special workshops for sailing clubs or other interested organizations, tailored to your request—anywhere from one hour to one week in length. These can be terrific fundraising opportunities… contact us for details. 
Private lessons for individual vessels or crews may be offered by special arrangement.
Seminars / Presentations
Brion frequently speaks at a variety of boating and sailing events—check the calendar below to find out when he may be in your area!
Past presentations or seminars
Learn Online
Educational tips, hints, and tricks from Brion.
Spartalk–our online bulletin board for conversation with and among yacht riggers