Hi,
The days of large crews are in the  past for me, but we still work on quite a few rigs, and we still work with some great riggers. I'll be featuring some more of them in the future, but for now, meet our latest hire, Julia Briggs. She's been a commercial diver, among other things, but is now more interested in going aloft than alow, and is proving herself to be a remarkably talented rigger. The picture at the top is of her at the bowsprit of a boat we are just finishing up. Its standing rigging is a remarkable 3-strand Vectran, made by Whitehill. Julia did much of the splicing in the rig, as well as installing and tuning it.
We mostly work on more conventional rigs, though. Here is Julia setting up to go aloft for a rig survey: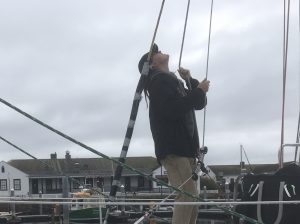 Of course, rigging is not always about climbing; yacht yoga is a frequent requirement. The other day we had to get at some hardware that was deep, deep in a tiny lazarette. It was a job that required a certain amount of contortion: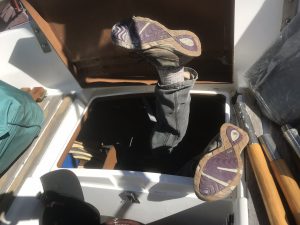 Yup, aloft is better. Here is Julia slushing the fully-served gang of Spectra on a lovely Ingrid ketch: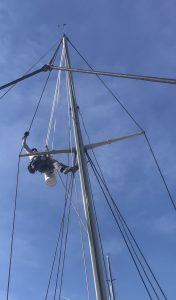 Finally, I will note that we get to meet the neatest people. Here is Julia and, post-mast-stepping, with the extraordinary Deb Greene, geologist, all-around adventurous person, and probably soon an author. Sorry to block the shot, Deb: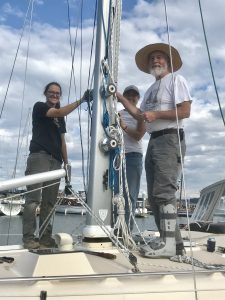 More fun people and boats in the future. For now I will leave  you with a plug for my little ebook, Falling. To get yours, click Here, or go Amazon, or to ibooks at Apple, and type in the title or my name.
Fair leads,
Brion