New/Old
While in Sausalito recently, I visited the brigantine Matthew Turner , where a largely volunteer crew — directed and trained by professionals — is putting the finishing touches on a 5-year-long project. This is a purpose-built vessel, 100′ on deck, based on a line of very successful 19th-century trading vessels. It will be dedicated to taking thousands of schoolchildren out on the water every year, to  teach them about the important stuff. You know, science, history, working as a team, and tempering their spirits. It will provide the kind of education that doesn't just supplement conventional schooling — it transforms and supercharges it. If this sounds a bit exaggerated to you, then you probably haven't spent much time on traditional sail-training vessels. They provide an unparalleled blend of physical, mental, and spiritual challenges, and they do it while also being a blast of an experience. The Turner is the latest member of the sail training fleet, and by all that I saw, it is going to be one of the best.
This 100′ on deck brigantine is small enough that the crew won't be dwarfed by the ship, complicated enough to demand skill and effort from its crew, and large enough that, combined with a superlative design (I'm looking at you, Tri-Coastal Marine), it can sail anywhere. I could go on and on about its self-charging all-electric propulsion, its way-redundant safety features, and the quality of its construction, but you really have to see it for yourself.
If you are going to be anywhere near Sausalito, give their office a call, and see about scheduling a tour.
If you can't get there, cruise around their splendid Web Site.
Whether or not you are going to be anywhere near Sausalito, consider Donating.
Thanks to Sylvia Stompe, Alan Olson, and crew for a great visit.
2. Semi-Old
I also recently visited the Samson Rope factory, near Bellingham, Washington. I love rope factories. I love all the whirling bobbins, the testing machinery, the splicing and analysis and experimentation that goes on there. This place did not disappoint. Of course it helped that I lucked into a tour with Senior R&D engineer Greg Mozgai, one of the savviest rope geeks I know. Again, I could go on and on about alternative yarn-tensioning techniques, abrasion-testing machinery, and the magical way that hundreds of nearly invisible yarns drift through the air, converge, and suddenly turn into a big piece of exquisitely braided rope. But I won't. Get thee to a rope factory.
On my way out, I saw a weary-looking piece of rope on the wall, set on one side of a poster. Intrigued, I looked closer. Here it is: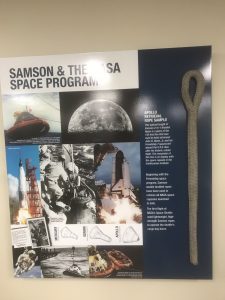 That's right, that little eyesplice hoisted John Glenn out of the drink at the conclusion of the Friendship 7 flight. Yes, the text says "Apollo" instead of "Mercury," but that doesn't make this splice any less of a sacred artifact.
3. Very New
This is about one more visit, this one to our son, his bride, and a new arrival. It was a visit that had nothing whatsoever to do with rigging, but I have become a grandparent, and that has activated my have-to-show-you-a-picture-of-my-grandchild gene. So without further ado, here is the amazing Riley Gray: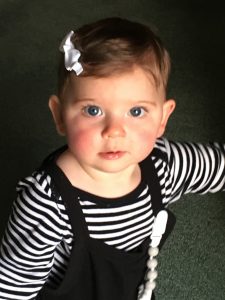 Ain't she something?
Fair leads,
Brion Toss
PS,
My book on life aloft, Falling, will make a perfect gift for someone special this year, and since it is an e-book, you can get it without leaving home. Do that. Or maybe the e-book version of the Rigger's Apprentice. Or if actual physical objects are more your style, visit our Online Store.
Happy Holy Days.