Marlingspike skills have so many ways of being expressed. Here are two of my favorite recent examples, and one … not so much.
First, the picture above shows a hatchet-hitching masterpiece from the incomparable Lauren Dixon. That's Moku hitching up by the head, then a Turk's Head, then a lovely 18-strand round sinnet. All in copper wire (which she twisted into 3-strand "twine") and ribbon, with the bottom of the sinnet secured with copper tacks. An amazing piece, that Lauren made for her sweetie. Oh, and you can't see it, but she built a compartment into the base of the handle, to store a file, to sharpen with, and a fire-starting flint. So you can sharpen the hatchet, then use it to chop kindling, so you can light a fire, so you have enough light to admire the hitching on the hatchet. I think that Lauren could be talked into taking commissions for work like this. If you are interested, let me know, and I will put you in touch with her. An artist like this deserves recognition.
Next, here are the stages in making a 1×19 wire splice. First we have the served eye in the vise, with two tucks made with each of the six strands, with each strand having three yarns. The eye is oversized to allow removal of the thimble for inspection, maintenance, or repair. The thimble is from the good folks at Port Townsend Foundry.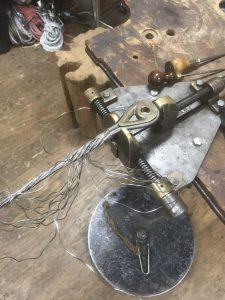 Next, we leave one yarn out of each bundle, and tuck the remaining yarns twice more.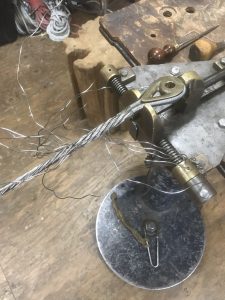 Then we drop out one of the two remaining yarns in each bundle, and tuck twice more.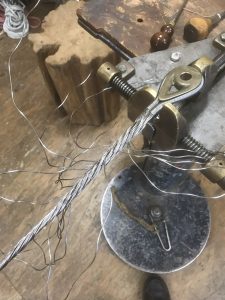 When the splice has been faired, we twist the strands to break them off, in an artful and mysterious fashion that causes them to break with a little hook at the end, to resist coming untucked, but said hooks are flush with the surface, so they don't gouge adjacent things or people.
With the tucking done, it remains to parcel and serve the splice. Really an optional step, but it does prettify things. The end of the service acts as a seizing to secure the thimble. You will soon find this splice at one end of the forestay of the beautiful Rhodes sloop Varya.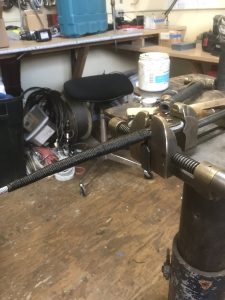 If you would like to learn how to splice 1×19 — or 7x constructions — I can honestly recommend The Rigger's Apprentice. It is available at our store, complete with autograph, and also at retail stores and sites.
Our last bit of handwork is, sadly, of the non-lovely type. Here on the Salish Sea, we have a lot of ferry traffic. When the ferry is in its slip, the captain keeps it in gear, keeping it pushed against the dock as cars and foot-passengers board and depart. As a prudent backup, the deck crew secures two stout mooring lines from shore, so that even in the event of an engine or transmission failure, the boat won't drift away from the dock, and people and cars won't drop into the water. As it happens, engine and transmission failures, though rare, do happen. In my experience, most deckhands take this job seriously, snugging the lines before belaying, and then making enough turns on the cleat to keep the ferry put, should something fail. But some of them are less, um, conscientious: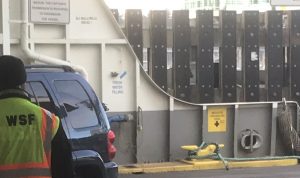 Zoom in on that belay. Do you think it has a chance of holding, if need be? And this is not the worst example I have seen. For several years I forwarded pictures like this, first to the ferries administration, and then to the Coast Guard. I even forwarded stills and videos of deckhands casting off mooring lines while cars were still loading or unloading. The Coast Guard finally stepped in and put a stop to this behavior, and for a while all was well. But lately these scary non-belays have begun creeping back in. So I am asking for help. If you ride a ferry around the Sound, check those belays as you board and depart. If you don't like what you see, get a picture, and send it to me. Alternatively, you could contact the Marine Inspection Office directly: john.d.dwyer@uscg.mil.
In book news, my ebook Falling is about to become an audiobook, too. I will let you know when that happens. Apple and Amazon will both carry it.
Meanwhile if an ebook is more your style, you can get one right now. Perhaps as last-minute gifts for the adventurers in your life?
A little further out, we made a print run of actual books, the last of which have been reserved for subscribers to this blog, but my spouse is working on a second printing, and I recommend that you reserve a copy, as a lot of people seem to have a preference for good old-fashioned print. To reserve your copy, write to catalog@briontoss.com.
Fair leads,
Brion Toss