Hello all,
The puzzle was dormant for a bit, but re-emerged with "Winch Winge." Here is how it went: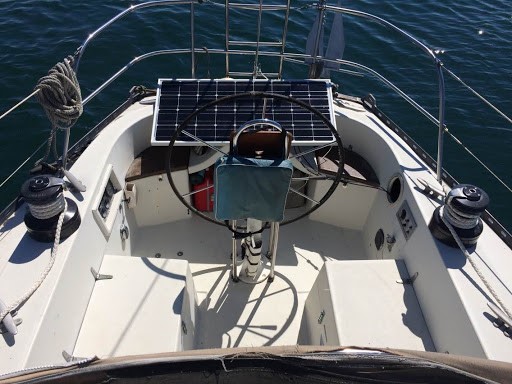 Stage One: In the picture above, there is something very wrong, as in could-cause-serious-injury wrong. What is it?
Stage Two: Hang on a moment, it is possible that things are not as bad as we think. What other (obscure) explanation is there that would reduce the problem to an annoying installation error? Hint, old-time racing sailors and their cruising contemporaries will have an advantage in figuring this one out.
The first-stage answer, obvious to many of you, was that the line on the starboard winch was wound on counterclockwise, which is really, really dangerous if the winch rotates clockwise. And nearly all winches do. Winding lines on  backwards means that, if any load comes on the line, there will be no snubbing action. Among other ghastly possibilities, this means that anyone hanging onto that line risks getting sucked into the winch.
A correct "normal" winding would look like this, with both lines winding on clockwise: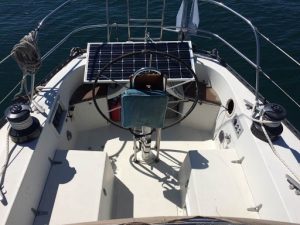 The second-stage answer is that not all winches rotate clockwise. If, in the first picture, the starboard winch rotated counterclockwise, and the port one clockwise, then the arrangement was correct. Sort of. See, one of the big reasons to have a "backwards" winch is so that you get a lead to the winch from the outboard side. This makes for cleaner leads from car to winch, because the line doesn't have to cut across the coaming or dodger. Look again at that "normal" picture, above. See how the line has to cut inboard to get onto the winch? This might not seem like a big deal, but it frequently makes the difference between a fair lead and the need to install metal chafing strips, to keep the sheet from grinding a groove into your boat.
So the second-stage answer is that, if both winches in the top picture were wound correctly, they were both installed on the wrong side. Have them  switch places, and you will get this: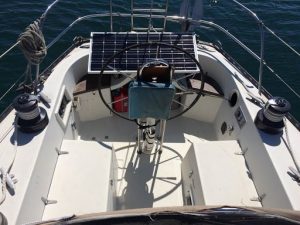 Now they both lead from the outside. Ahh.
You might be wondering why, if the resulting leads are so clean, this is not the standard way of doing things. One reason not to is that it adds a layer of complication to fix a problem that is minor or nonexistent on most boats. Another is that owners have to keep track of opposite-rotating parts. But the biggest reason is that most people reflexively wind every line onto a winch clockwise, and this has historically led to an appallingly high incidence of injuries aboard boats with counterclockwise winches.
If you have this setup, you probably already know all this, and have established a protocol to make sure that the whole crew knows how to do things right. On some boats, including many old racers and cruising vessels, opposite-winding winches are the only way to get clean leads. So if you find yourself aboard a boat like that, check which way the winches turn.
The winner of stage one, drawn at random from the list of correct entries is … Roger Briggs!
And the winner of stage  two is … Keith Quigley!
Congratulations, you two. Be in touch to arrange for us to send you your fabulous prizes.
For everyone else, brace yourselves for next week's puzzle: Breaking Stuff, Part 2.
In other news, last week I posted the first of a series on rig surveying. You can find it Here. The second installment will be delivered to subscribers on the 13th, and to everyone else a day later. Subscribers are also seeing this post a day early.To subscribe, just scroll down this page, and sign up.
As always, I invite you to read every single blog post I have ever written, something a gratifying number of you actually seem to have done. You'll find all those posts Here.
Also, please do cruise through our Online Store, for the best in tools, materials, and rigging education.
Fair leads,
Brion Toss