There's lots going on at briontoss.com. Scroll to the bottom of this page for details.
The Rigging Puzzle this time is about padeyes, and how to load them. In the pictures below, one padeye is a classic diamond pattern from Harken, and the other is one of Wichard's nifty folding models.  We loaded them three different ways, all with the leads rising slightly up from the horizontal, and only one of those ways complies with the manufacturers' recommendations for maximum strength, for both padeyes.  So what'll it be, picture number 1, picture number 2, or picture number 3?
If you think you know the answer, send it to puzzle@briontoss.com, or reply at the bottom of this page. Feel free to kick this around online, but it won't count unless you submit an answer. We'll draw the winner randomly from the pool of correct answers.
The prizes this time: one of our high-strength Spectra soft shackles (suitable for securing to your favorite padeye) and a copy of my book Falling, about the perils and rewards of working aloft. The book is available as a paperback, as an ebook, or as an audiobook, the latter narrated by yours truly.
Entries must be here by noon Pacific Time, January 21st. We will announce the winner on January 23rd. Good luck!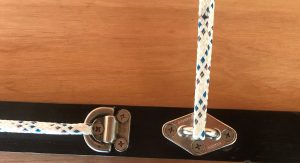 Arrangement 1, top view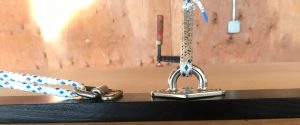 Arrangement 1, side view
Arrangement 2, top view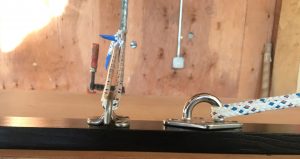 Arrangement 2, side view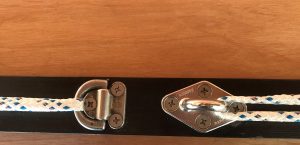 Arrangement 3, top view
Arrangement 3, side view
In other news, if you are going to be at the Seattle Boat Show, I'll be giving a series of talks there about various aspects of rigging. And I will soon be sending reports in from, of all places, Tasmania, at their huge, semi-annual Australian Wooden Boat Show. And finally, we will be once again bowing to popular demand and will be giving another 3-Day Rigging Workshop this April, at our loft in Port Townsend. Still some spaces available, but these workshops fill up fast. For information on all of this, and more, visit briontoss.com